Enjoy best paper io game on the web with paperio-live.com. paperio live is unique version of paper io 2 game.
Score

Area

1

worm.ist_90

54.48K

91.06%

2

paperio-live.com_283

12.82K

70.95%

3

UGotNoLove

9.45K

26.92%

4

Ayden

2.78K

19.11%

5

Mexicano

2.19K

17.63%

6

Bob

2.15K

3.01%

7

MoNkeY

2.06K

12.65%

8

paperio-live.com_316

1.95K

8.45%

9

Noir

1.93K

9.54%

10

Or Or Or Or

1.66K

14.59%
Welcome to paperio.live, the riskiest yet most thrilling paper io game experience out there! The new version of the legendary
paper.io
game is now live! Enjoy the game with new features and directly unlocked skins!
What do we offer in the new paperio game?
We have been renewing this beautiful game since 2018 with new game dynamics and our new skin offerings so that you can have great time with your paper.io mates. Paper.io stands out as the best IO game thanks to one unique leaderboard feature: It lists players on a daily, weekly and monthly basis but there is column on the very right of the table that covers the legendary players of all times. Take on the challenge and share scores to prove your place on top of the chart for ages! The Paper.io 2 game allows you to relish a fascinating gameplay and plot…
Paperio 2 game plot
For maximum success, you cannot stand still in this game. You need to leave your comfort zone on the map, and surround the empty space you need to dominate. You always have to be extremely careful to cover as much territory as possible on the map. It does not matter whether you foray into uncharted spaces or somewhere that belongs to another user. Once it is possible to surround the area, you can demand it for your empire. However, remember that other players aren't sleeping and they also try to take away a much land as possible at your loss. If you leave your boundaries (let's say skin ) unattended, they will start eating at them on a piecemeal basis and savor your well-established territory quickly after reaching a certain size! Therefore, if you prefer to be overprotective, you will see yourself getting devastated. To conquer new territories, all you have to do is create patches like small cubes non-stop and ensure that you get back the territory lost by hitting someone when they leave their area! If you develop a better strategy, make use of it, too! Master paper.io on web browser, Android and iOS will allow you to get all possible improvements in the game. In other words, you don't have to worry about the game progress thanks to continuous updates on our side. Warning: Do not give extra money to anyone for game progress. We are against any form of gambling in such thrilling games. We designed this game to be free for all! You will not even have to download any modes. All the detailed information is limited to this section. Our servers are free, safe and speedy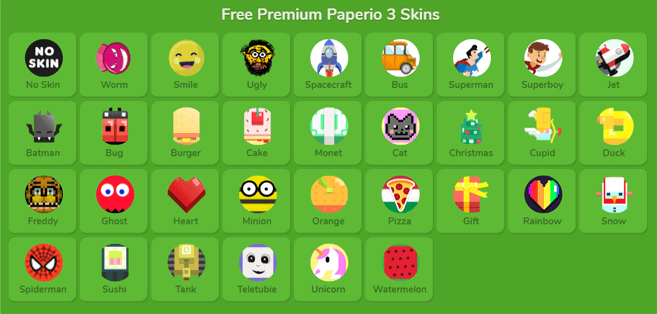 Check out our vibrant paperio skins!
You start our paper io game with no skin default setting. But we offer you 32 free premium paper.io 2 skins including with a variety of categories. What are they? You may want to cheer all your rivals before you devastate them. So, choose the smile skin to do that. Do you wish to be a superhero? Then choose Batman, Spiderman, Superman or Superboy (yes, we made the last one up). You can be a jet or spacecraft if you are good with the skies. Kids will love the unicorn or Teletubbie as much as adults. Paper io skins also have several animal alternatives including an angry worm, bug, cat and duck. Do you want to be prove aggressive? Then opt for a tank or ugly face Do you like savoring fruits, then go for orange and watermelon. Other food items include pizza, sushi and burger as well as a complementary cake! If you want give them goosebumps, go for ghost or Freddy Fazbear! Or just squash them with a bus LGTBs are most welcome. We offer you rainbow in the shape of a heart. The remaining skins include monet, minion, Christmas which is on the horizon, cupid and the red heart, which might symbolize your appreciation and love for the paperio 3 game or your beloved rivals
PRIVACY POLICY
We use third-party advertising companies to serve ads when you visit our Web site. These companies may use information (not including your name, address, email address or telephone number) about your visits to this and other Web sites in order to provide advertisements about goods and services of interest to you. If you would like more information about this practice and to know your choices about not having this information used by these companies,
read privacy policies